I recently acquired this souvenier postcard of H. M. Kinsley's, which was in the loop in Chicago. The building no longer stands.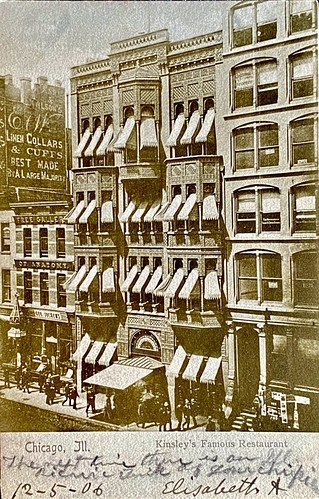 Kinsley's was the leading fine dining restaurant in Chicago ("The Chicago Delmonico's") from its inception in 1884 until its closure in 1905. At some point in there, bartender John Applegreen worked at Kinsley's, subsequently writing his sturdy little pocket recipe book Applegreen's Barkeeper's Guide (first published 1899 by Hotel Monthly Press, and several editions thereafter).
Here's a nice write-up about Kinsley's:

The restauranteur, Herbert M. Kinsley, subsequently opened the Holland House in New York City, in 1892. Holland House lasted until Prohibition. The building still stands and is recognizable on Fifth Avenue at 30th St, although it was long ago converted to offices. Holland House is where George Kappeler worked prior to writing his celebrated book Modern American Drinks (1895).
Here's a nice writeup on Holland House: