An amazing thing about the Cocktail Renaissance: so many things that were long gone have since returned. But not everything. My white whale is what I have come to call light, Cuban-style rum, by which I mean the complex, nuanced, delicious, yet filtered rum that Bacardí more or less commercialized, and produced vast quantities of up until around the Cuban revolution of 1959. Basically, the stuff behind the Daiquiri and a zillion lesser drinks. I've had the privilege of sampling product from the 1950s both alone and in cocktails, so I have some frame of reference; others have far more vintage rum experience to draw upon.
In recent years, we've experimented with Bacardi 1909 Superior Limited Edition, Havana Club 3 Year, Caña Brava, Denizen, Plantation 3 Stars, Banks 5 Island, Flor de Caña 4 Year Extra Seco, El Dorado 3 Year, and more. We've had some bad drinks and some good drinks, but none of the good ones have quite rung the bell, in my opinion.
Any history, news and insights are greatly appreciated. (By me, at any rate.)
Meanwhile, we have something new to experiment with: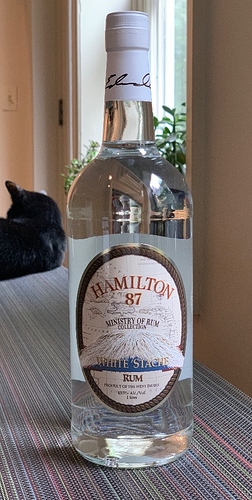 Hamilton White 'Stache is a blend of aged Trinidadian rum with a little unaged Guyanese and unaged Dominican rums, bottled at 43.5º. Here are some notes from the producer. I just got a bottle today, and just finished my first Daiquiri made with it. All I will say, for now, is that it's clearly worth checking out.