To kick things off here, I want to share what is—for me—far and away the most exciting recent spirit introduction, and why.
I've had a thing for genever for quite some time. I was intrigued by it even back before David Wondrich sorted out for us that genever—aka Holland gin—was what was actually meant by pretty much any cocktail book "gin" reference prior to the 1890s, if it wasn't preceded by the words "old tom". (If none of that sounds familiar, than you need to read both David Wondrich's Imbibe, and this really pivotal article of his on English gin.)
Back then, this is all we had in the US: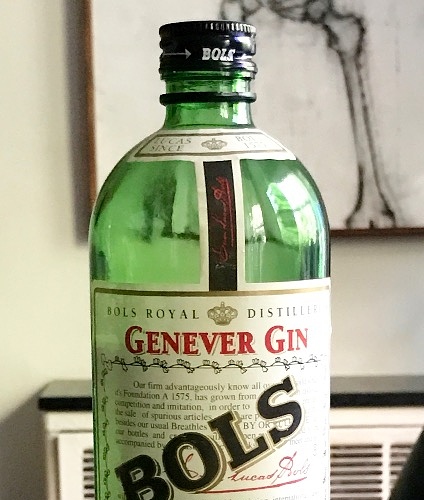 This was a bottom shelf product—like everything else labeled Bols in the US—and it had a bit of malty flavor and a hint of juniper, and was otherwise pretty neutral and a bit harsh. The Boomsma brand came along shortly thereafter and offered something similar. Both products suggested something distinctive about genever without delivering it decisively. Genever remained interesting, but fuzzy and un-compelling.
In 2007, I had the pleasure to meet Philip Duff—then working for Bols in Amsterdam—who quite generously gave me a crash course in genever (such as it was at the time) and took me to the Genever Museum in Scheidam. That museum is where I got my first sample of 100% maltwine genever. Indeed, at that time, the museum was the only place you could get such stuff. (Cool little museum, by the way. Do go.)
Folks, pure maltwine genever is a revelation. But it was essentially unobtanium.
In ensuing years, the situation improved, mainly through the introduction of the (new) Bols Genever and Bols Barrel Aged Genever products—the ones in gray bottles. These were both essentially Corenwyns—a blend of about half malt wine and half neutral spirits. Better. But still not pure maltwine genever.
Finally, after a bit of talk and an unusually short gestation period, Mr. Duff produced this at the end of 2017: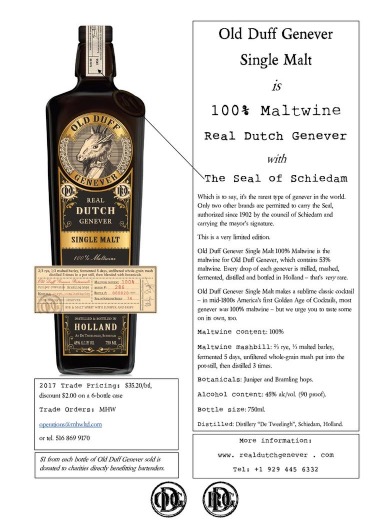 For me, this is the bomb. Not only is it the real thing, it's way better than the best I'd had. It's delicious. And with it you can make a 19th Century drink like the Gin Cocktail, or Gin Julep, or John Collins, or Gin Fix, and you will understand: this is what the fuss was about.
Old Duff is gradually infiltrating more markets. It started in New York. It's now in London. It's about to be in the Netherlands, Scandinavia, and various Asian markets. There's a second product in the lineup in a green bottle: it's nice too, and it's ostensibly formulated for contemporary mixology, but it's also 47% grain spirits and not (to me) as interesting.
If you're not in a market you can get Old Duff, the good news is that Philip's activities seems to have stirred the giant, and now Bols themselves are rolling out a pure maltwine genever, too:

I haven't gotten my hands on it, myself, but I hear it's pretty good.