On the topic of seasonal drinks, I've been cranking out another favorite of mine, Hot Port Sangaree. Mine is loosely based on the splendid one @AudreySaunders served at Pegu Club. There's a recipe (paywall warning) in the New York Times attributed to Audrey, but while it seems to have hallmarks of Audrey's method (the bitters, the acid adjustment, the pomegranate), I'm a bit worried that Asimov guy may have fiddled with it.
15 ounces ruby port
2 ounces pomegranate molasses
3.5 ounces simple syrup
0.75 ounce fresh lemon juice
5 dashes orange bitters
3 dashes Angostura bitters
lemon peel for garnish
What I do is buy whatever port is priced right—at the moment, I'm using an inexpensive Tawny. Then I sweeten and flavor it to taste with a Pom-derived intense syrup (thank you @slkinsey), add the lemon juice and bitters prescribed by the Times recipe, and rebottle. This time around, I shoved an entire orange peel in there… because I could.

I'm a bit hazy on the history of this concept. The Sangarees I know of were cold, such as this one: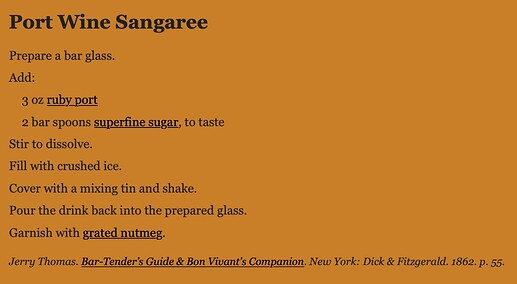 … and the Negus was hot: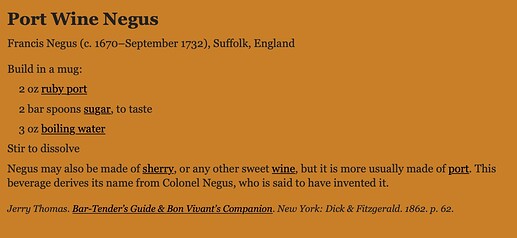 I love it either way.