@Splificator has mentioned many times the degree to which Jerry Thomas' book was simply recycled by subsequent authors—for decades—with little attempt to disguise the plagiarism. Here's one example I cherry-picked because I thought it was kind of interesting: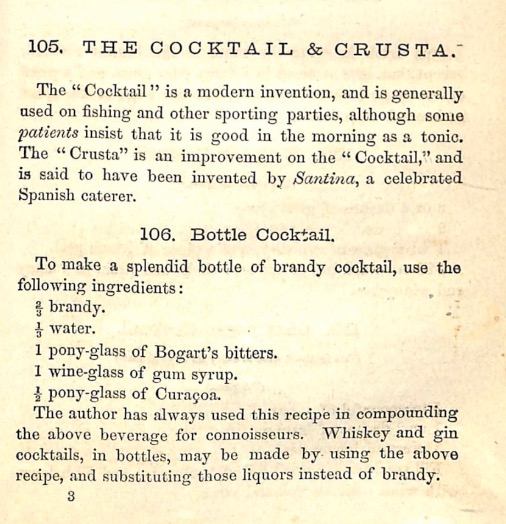 Above is part of page 49 from Thomas' book. The first paragraph introduces the Cocktail section, and includes the (misspelled) attribution of the Crusta to Joe Santini. Next comes Thomas' general purpose bottled cocktail recipe.
Compare with page 39 of Leo Engel's American & Other Drinks (London, 1875):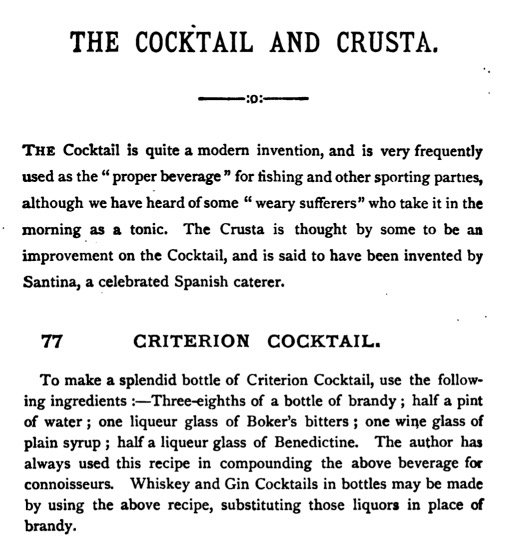 At first glance, the first paragraph appears to be verbatim Thomas, but no, Engel tinkered with both sentences, making the latter sentence about the Crusta a bit less… enthusiastic… while retaining the misspelled attribution.
For the bottled cocktail recipe, Engel has substituted his own variation: it's a similar idea, but featuring Benedictine instead of curaçao. Sorting out his measurements looks tricky.