A few days ago, I launched the eighth in my current series of iPhone/iPad drink apps: The Martini Cocktail, curated by @RobertSimonson (shameless plug #1)
This new app is nominally a companion to—or perhaps a parallel exploration to—Simonson's own new book The Martini Cocktail: A Meditation on the World's Greatest Drink, with Recipes (shameless plug #2):
Meanwhile, I sit here drinking this Sweet Martini (not technically in the app, but it's a 2:1 with Royal Dock and Ransom Sweet Vermouth), …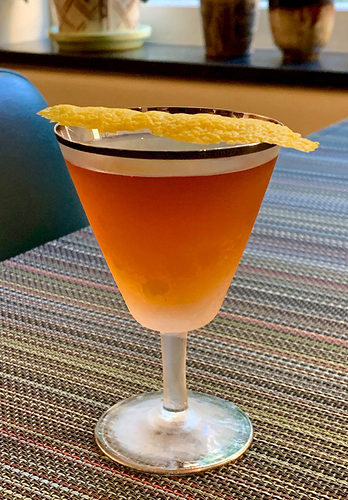 … and, well, see, I have an agenda with this new app, and this is as good a time as any to reveal it:
I want you to start drinking Sweet Martinis.
The thing is, the Sweet Martini isn't really sweet, (assuming you don't add gum syrup). The Sweet Martini is simply a Martini made with red Italian vermouth, or white Chambéry vermouth, or even an Italian bianco vermouth. Maybe it's a little off dry, but it ain't sweet. It's definitely richer. It's rounder. It is fucking delicious.
Today, we have a sprawling wealth of red vermouths and white vermouths on the market, and they're way more diverse and interesting than the dry vermouths. Sweet vermouth is not just for brown spirits. Buy some good sweet vermouth mix it with your gin!
Cheers!