The Wine and Spirits Bulletin was a pre-Prohibition industry journal "Devoted to the Interests of the Wine and Spirit Trade" published out of Louisville (and sometimes Cincinnati), apparently beginning in 1886 or 1887, and running at least until 1915, and possibly a little longer. These monthly newsletters typically ran 50-90 pages, and are packed with ads and context—at least from a Kentucky/Ohio perspective. They include—as you might expect—a lot of about the looming temperance threat.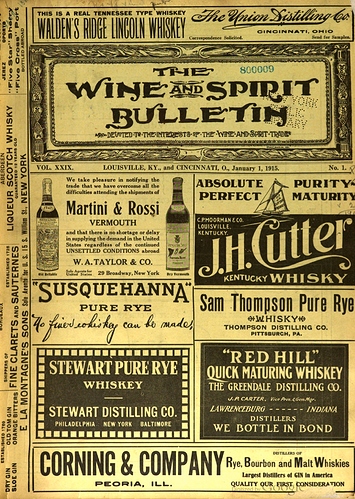 Google Books has digitized at least three volumes (years worth) and I've excavated those for your convenience. There may be more buried in Google Books, but I haven't found them yet (yeesh, what a mess). The New York Public Library seems to have been one of the sources, so they might have more in their holdings. It would be swell to eventually locate more. [update: added additional volumes located by @C.Oneal]
(Note: each file is a 150-300MB PDF)
This is the same outfit that published the nifty Beverages De Luxe in 1911 and 1914 that you can find over at the EUVS site.