One of my favorite topics—because I find I am frequently the victim—is how history gets mangled. Later–if we're lucky—it gets untangled.
This example is inspired by the latest Life Behind Bars episode (recommended) with Noah Rothbaum and @splificator, who has been on this particular case since at least 2007, writing for Esquire. (To be clear, the following is pretty much just my new hypertext presentation of @splificator's work.)
Here we have an easily-overlooked passage from Boothby's 1891 American Bar-tender: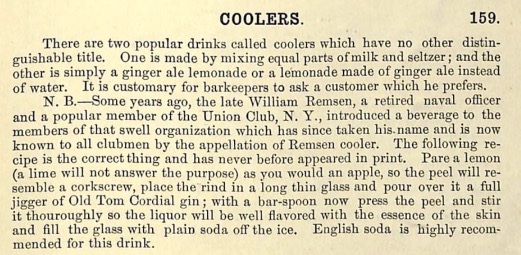 A few years later, we have this in Kappeler's Modern American Drinks (1895):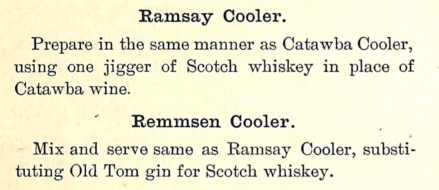 Remsen is misspelled, and his drink is now presented as a variant of a Ramsay Cooler, which itself is presented as a variant of the Catawba Cooler. Turns out John Ramsay was the owner of the Port Ellen distillery back the in 19th Century (today ravaged by Diageo), he was quite famous in his field, and it seems his name was probably attached to actual whisky at some point.
Here is Kappeler's Catawba Cooler recipe:

Ok. We've got ice now, too.
But five years after that, in Harry Johnson's Bartenders' Manual, the spelling is corrected, but now it's a scotch drink—calling for a brand of scotch that never existed!—while acknowledging that some folks want Old Tom or even Sloe Gin: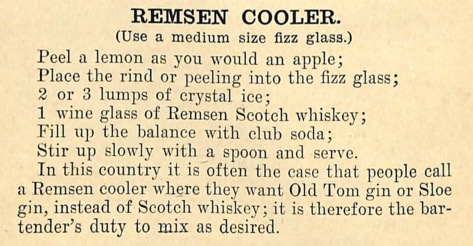 From this point, Remsen Cooler recipes would go on to be replicated endlessly as a scotch highball with the addition of the horse's neck garnish. Meanwhile, here's Johnson's (1900) Highball recipe a few pages away:

One thing is for sure: today I shall mix up my first Remsen Cooler with Old Tom Gin!