A few days ago, I was on a small cruise ship on the Nile. Lucky me. I was not drinking much, because beverage alcohol is pretty much just something for tourists in Egypt, the selection is limited, the prices are high, and odds are, the man behind the bar has never tasted alcohol and brings little insight to his position. Nevertheless, I was put on the spot by friends and after some rummaging, dug up a cocktail (1) for which the necessary ingredients were available, and (2) seemed remarkably appropriate, thematically.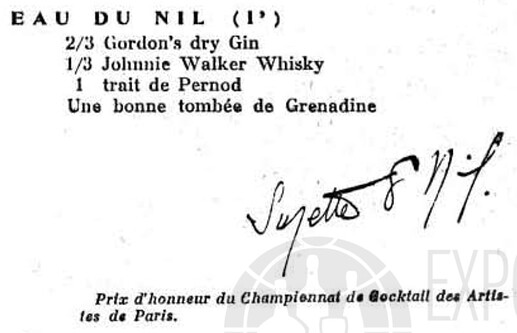 This is a cocktail from the 1929 Cocktails de Paris.
I'd never made it before. It's possible nobody on the planet has made this drink in decades—I have no idea. That split base is… not promising. But what the hell. I walked the bartender through the process, for which he charged me an astounding amount of money, but the drink he made was enormous, bracingly strong (obviously), a lovely pink hue, and made a fine conversation piece. Worth it.
The surprise, though, was that the drink was tasty. It was a dry bucket of booze, but the gin and scotch kind of melded into something new, perhaps mediated by the Pernod, and even though we used minute amounts of both the Pernod and grenadine, they both were there, in the background.
I would also state that (besides being a French cocktail) the drink felt like a French cocktail, in the way that the Rose is French, although I'm unable to articulate why.
Thoughts?